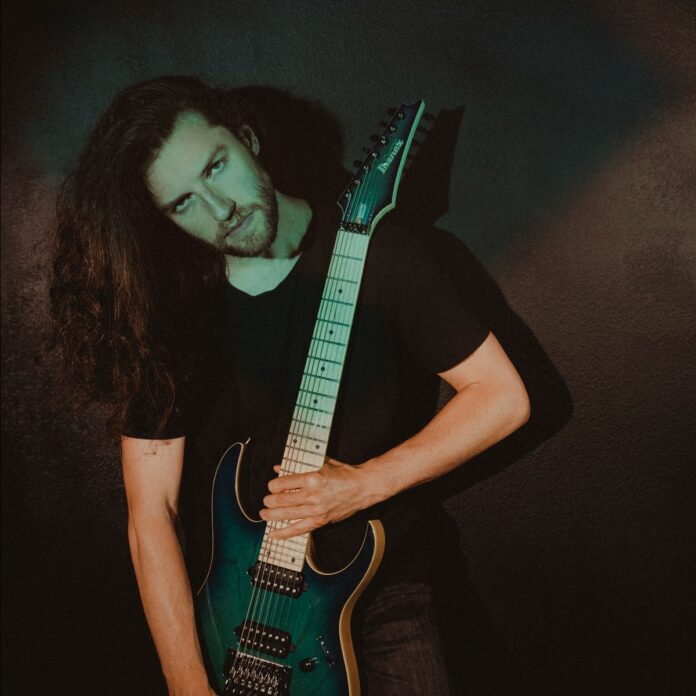 Up-and-coming solo shred guitarist Morgan Reid has shared his new single 'Goliath Online'; a groove-filled instrumental metal track with an emphasis on industrial, mechanical riffs and sci-fi scales, with rhythm guitars reminiscent of the likes of Meshuggah. The music video features some choreographed dancing from Reid himself, his wife Tine Reid and fellow dancer Isabelle Schramm.
Stream 'Goliath Online' here: https://distrokid.com/hyperfollow/morganreid/goliath-online
Watch the video here: https://youtu.be/DR6IW-LNA_Q
Morgan comments: "'Goliath Online' and its accompanying dance film/music video is a cyberpunk story about the awakening of a female cyborg – her brutal creation, a body dismembered and repurposed by nanobots on the production line for war. The inner struggle with her singular purpose, destruction. A mechanical existence that overshadows her boiling human emotion, yet her tech boasts an ever-soaring lust for battle. How does she feel trapped inside this cold mechanical shell? Does the heat of battle bring not joy? This dark satire is about the glorification of war and violence in our society."
'Goliath Online' is taken from Morgan's long-awaited debut album Terran, to be released 25th November. It follows singles 'A Formless Icon', 'Grand Champ' and 'Djinn & Juice'. The project is supported by Initiative Musik gGmbH with project funds from the Federal Government Commissioner for Culture and Media (Germany).
Born in Toronto, Canada, Morgan is well-known for his fierce technical shredding, slamming riffs, bombastic windmills and his expressive, melodic lead lines.
Known as guitarist for tech-death outfit Bloodshot Dawn, Morgan has been at the pinnacle of the guitar world for a good number of years already. Now a JTC guitarist, Morgan made it to the top 5 of Per Nilsson's Guitar Messenger Contest in 2013, alongside Plini, and with his first live performance garnered praise at Guitar Idol 4 in 2014.
Soon after Morgan joined Bloodshot Dawn, following the departure of their previous guitaristwho left to join Scar Symmetry. His first ever gig with the band was a sweaty one, the aptly named Incineration Fest in London, which preceded Morgan's first tour of Japan with the band.
In following years Morgan has toured with the likes of Decapitated, Virvum, Fleshgod Apocalyse, and across Canada, Japan and Europe. With Bloodshot Dawn Morgan has also performed at Hellfest, Bloodstock, Hammerfest and Metaldays, among others.
Beside music, Morgan is also a professional dancer and choreographer. Having moved to Europe at the age of 18 to enrol in a prestigious dance program, Morgan's dance has been integral to his development as a composer and songwriter. His skills as a dancer, and beyond as a yoga enthusiast and martial artist, have helped him develop his own unique, dynamic style with the instrument through years of practice and research.
For more:
https://www.instagram.com/morganreidguitar
https://www.facebook.com/Morganreidguitar
https://morganreidguitar.com