Lindsay Ell has a song called "Want Me Back". She plays it here. It's chorus goes like this. If I were you, I'd miss my kiss/I'd miss me keeping you up all night. /If I were you, I know that losing me./ Would make me lose my mind/You ain't gonna find nobody like me/I'm the best you ever had". Not only is this rather funny, it is also indicative of her confidence. You don't write that song if you aren't absolutely certain in yourself. Well she might be too. Playing here as a two piece, her guitar playing is superbly raw and her songwriting is on point. "Wildfire", "Hits Me Every Time" and the anthemic "Get Over You" – the latter includes an intro shred that underlines her talent – are shining examples of how to get originality from something that's been done many times. Likewise her choice of covers seem to tell a story. "Just A Girl" by No Doubt, almost dares you to call her "just" anything and "Bohemian Rhapsody" might be a Q***n song, but its big, brash and bold, I suppose. So is Ell. "What Happens In A Small Town" – a song she sang with Brantley Gilbert, is given a new feel here, but it's the last one "Closer" that convinces you yet again that Lindsay Ell is one of a kind. How many "country" tinged singers play out with the riff from "Kashmir"? Not many. And on this evidence, there's not many like Lindsay Ell.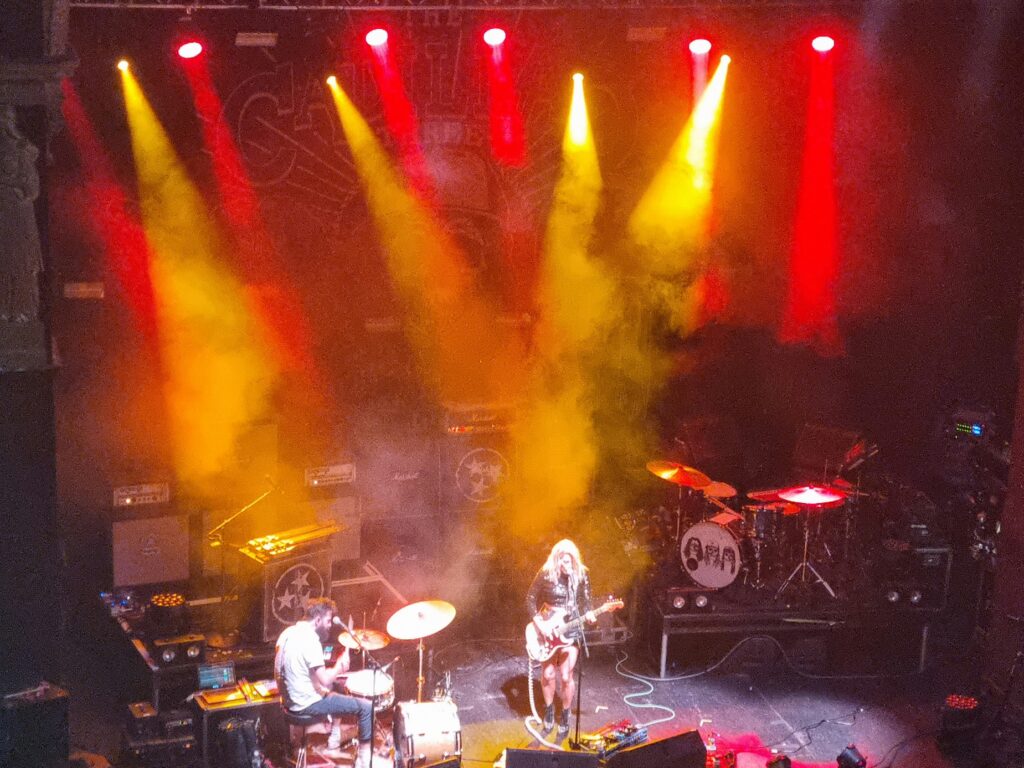 Jaren Johnson – a man who looks like he was born to front a southern rock band – steps to the mic and says: "Birmingham, we've been coming here since 2013 and something special was happening. We made a pact to come back every year. Then the world shut down. But I promise you, we're gonna keep coming over as much as we can…"
It had struck me before he'd said it, actually. I was at a gig in 2014, TC3 were at the bottom of a three band bill in the small venue just down the hall. Watch them here and it feels like vindication for all their hard work. Sold out, thousands of people here. This band is heading for the arenas, next time.
Note the words in the opening though. "Southern Rock", because it is inescapable that this is a heavier band than they've been before, it seems anyway. When they play "Blue El Camino" for example, you could close your eyes and it could be ZZ Top on the stage.
More than anything, though, TC3 have always been a good time band. "Cracking Cold Ones With The Boys" never felt like a song so much as a lifestyle choice and they are as good as it gets.
Maybe it's because they haven't played live in so long, but it feels there's a new life and energy in the older stuff, like "Peace Love And Dixie" (a lot of the set comes from that second album) and "Tennessee Mojo" from the debut.
It's a show with emotion too. The Taylor Hawkins Tribute Concert in London is referenced time and again, and "Hank And Jesus" is dedicated poignantly to Johnson's late father who died in January. "American Slang" is the left turn it always was and when Johnson and Kelby Ray play "Running Red Lights" together it is filled with feeling.
Perhaps the biggest surprise of the show though, is the three tunes they play from their most recent "Tabasco and Sweet Tea" album. A funky record, you did wonder how they'd play them live. The answer is simple. Ray leaves his Lap Steel, plays bass and Lindsay Ell returns. And "Head Over Heels", Sweet Southern Spirit" and a magnificent title track are all delivered in a way that you never imagined.
Credit to them for not doing encores, but it feels like "White Lightening" should be one, it is a beautiful song, but the raucous pair of "I'm Southern" and "The South" are the other end of the TC3 scale and when you see them play the latter, like the denim clad rock stars of yore, you realise that The Cadillac Three are just three mates who love doing this.
It might be all about "The South" as the chorus offers, but its not, its all about everyone. The Cadillac Three feel like they connect everywhere, and that is a rare gift.