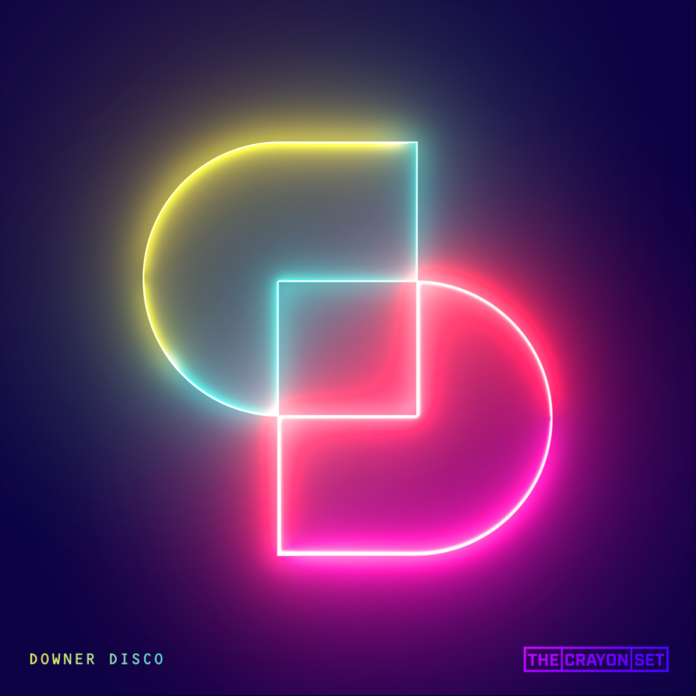 The Crayon set are a hook-filled, alternative pop, synth-pop come electronic outfit that are based in Dublin. This quintet comprise Robert Baker (vocals, guitars, synths), Kate Dineen (vocals, guitars, synths, percussion), George Guilfoyle (bass, double bass, guitars, vocals), Finn O'Reilly (guitars, bass, keys, vocals) and Phil Casey (drums, percussion). Founder / main songwriter Robert Baker has shared that "The idea behind the band, as the name suggests, was for it to incorporate different 'colours' i.e., musical styles and influences, for it not to be confined by any boundaries or genres. So, hopefully it will be a life-long project and it can morph and evolve even if some members come and go. But I am very reliant on the other crayons adding their magic."
They have released two albums, their self-titled debut in 2013 and follow-up 'Lost Languages released in 2017. They have a new album `Downer Disco` released this month.
The album opens with `Don't Step Back Too Far` which lyrically is about feeling down and losing a sense of yourself and your role in the world. It`s a gentle quite dreamy electronic tinged offering that builds as it progresses. Kate Dineen`s vocals have a quite captivating texture about them. In `Summer Song` we have an ode to bygone youth before proper jobs and responsibilities, when the summer months were an endless parade of parties and festivals, meeting people and dancing all night, and everything seemed to mean the world in the moment but forgotten the next day. Again, it has a synth like undertone and Kate`s quite enchanting mesmeric vocal delivery.
`Out Of Your Mind` has a repetitive drum and synth heartbeat with Robert`s breathy almost remotely delivered vocals giving the number a slightly edgy unnerving sense. Kate joins in halfway through before Robert retains the lead once again as she flits in and out throughout the rest of the number. There`s a delightful resonating guitar chord throughout `Flames` which becomes a quite hypnotic pounding rock song with Kate delivering some aching, questioning lyrics.
`Boring` follows with Robert resuming the vocal duties and it`s a quite entrancing nigh on introspective track, that will really draw you in. A song that looks at the world of celebrity culture and fame-hunting follows with `Rock Star // Dream Girl`. The lyrics were appropriated from real quotes from minor celebs according to the band. We have a media snippet just after midway which breaks up the song before we return to both singers trading lyrics. It`s a quite mid-tempo beguiling piece.
We return to a more electronic composition with the dreamlike `Moment` before moving into a track that has a kind of late night club vibe to it with `Not The End Of The World`. At times it`s quite electronic then sophisticated and kind of jazzy. It gathers pace at times and really takes off towards the end. A submission that`s hard to define musically.
The album concludes with `Miss You In My Dreams` a bewitching, spellbinding and really engrossing atmospheric arrangement to close out on.
`Downer Disco` is a curious but intriguing listen and doesn`t fit into any particular musical genre which makes all the more interesting. The Crayon Set certainly incorporate a variety of styles on this release and it`s the sort of album that you`ll discover something different each time you return to listen to it.
Rating 9/10