In the late eighties a friend, who sadly is no longer with us was a part time DJ and also worked at a London music pr company. He was asked to "babysit" a couple of guys from a new band from Manchester who were down to attend a few radio interviews. It turned out it was Shaun Ryder and Mark `Bez` Berry from Happy Mondays. As you can imagine the day didn`t go to plan and he was delighted when he managed to wave them off on an evening train back to Manchester. Thirty odd years on and the boys are here tonight to share a warmup set for fellow Mancunians James, thirty three years since the two Factory label mates toured together back in 1988. Most of the original line up of the Mondays are here tonight with Rowetta trying to keep them in order. The band share an hour`s worth of nostalgia which includes tracks such as `Kinky Afro`, `Loose Fit`, `24 Hour Party People`, `Hallelujah`, `Step On` and `Wrote For Luck`. Shaun doesn`t move about much these days and is understandably a little forgetful and Bez`s dancing is more restrained but they shared a quite entertaining set that certainly had this packed arena singing and dancing along.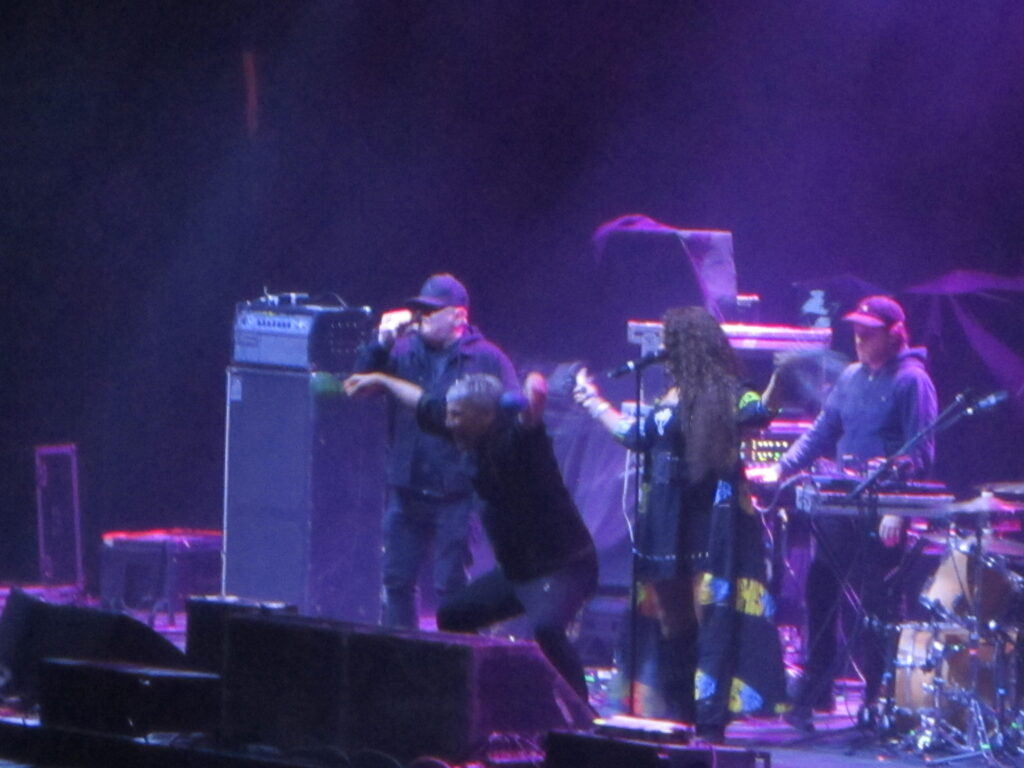 It`s not too long before James who are now a nine piece ensemble walk on stage and singer Tim Booth shares the introspective and reflective `Zero` from the band`s latest release `All the Colours Of You` along with another cut the more upbeat ` Isabella`. We are taken back in time as the band offer up the classics with `She`s A Star` and `Born Of Frustration`
There are some songs that I have to say pleasantly surprised me by their inclusion in the set such as `Tomorrow`, `Honest Joe` which is belted out through a megaphone and `Moving On` replete with trumpet blasts. There`s the quite erratic `Hymn From A Village` before what I have to say is one of my favourite tracks `Come Home` and it does not disappoint, igniting this over ten thousand strong audience.
This two hour show closes out with what I would call dance oriented / singalong crowd pleasers with `Wherever It Takes Us`. `Getting Away With it (All Messed Up) `, `Curse Curse` and `Sound`
It`s not long before the band return for an encore which included the bouncy climate change anthem `Beautiful Beaches` from the new release along with the stunning and timeless `Laid`.
The most poignant part of this evening is when singer Tim Booth talks about the Covid epidemic, it`s devastating effects and his own Father in Law`s passing. His family had a facetime session with him just before he died where he asked Tim to sing `Sit Down` which he does again now.
The curfew time has passed and the venue are encouraging the band to exit the stage but they decide to hang the consequences and share a final number with the quite anthemic `Sometimes`.
Tonight, was a show that I have to say I enjoyed more on reflection. I think I had too much invested in the evening and my expectations of it. I had a discussion with a good friend the other night about bands that seem to be able to play arenas and it feels as though you`re in a small venue. James are that kind of band where wherever you are you feel included. They have a few more gigs around the UK and Ireland so there`s still a chance to enjoy a night out with them.
The band return next year for a few festival dates so something to look forward to.