As I walk out of The Institute tonight, Adam Methven, the singer of The Fallen State is posing for selfies with his adoring public. In other words, job done. The band are on this bill to make new friends after all. They have the songs to aim higher, "Standing Tall" thunders along, with Joe Price's riffs providing the bedrock, and there's hooks and choruses everywhere. Modern sounding stuff like "Knives" and "Burn It To The Ground" have the polish to see them move forward, and the closing song "Nova" – which dates back to 2016 which perhaps shows how long they've been paying their dues – "means a lot to a lot of people" says Methven – and is worthy of its slot at the end of the show. Surely The Fallen State are ready to really make their move.
It was the 7th November 2018 when I wrote this: "Mason Hill appear to have it all in front of them". They'd opened for Dan Reed Network that night. It was 15th May 2022 when they underlined exactly why I was right. Put simply, the Glaswegians are brilliant here. They have so much power when they play live, but moreover they look like they'd rather be nowhere else in the world than right where they are. "Hold On", "DNA" and the likes are all from their debut record ("and why not, it's the only one we have", offers Scott Taylor, the bands charismatic lead singer) but there's a new track too, "Freakin' Out" is actually better than guitarist James Bird says it is: "We're getting there" he reckons, but he's selling it short. "Broken Son" was perhaps the best moment on the aforementioned album, and although its superb here, it has to give way to "Against The Wall". Taylor's mother's favourite song, and she'd passed away a fortnight ago. His emotion is clear as he sings it, but as ever music seems to heal better than anything else and investing that love into the song really paid off. Mason Hill have long been a name to drop, and if you'd seen them here, you'd know why. They are as good as it gets.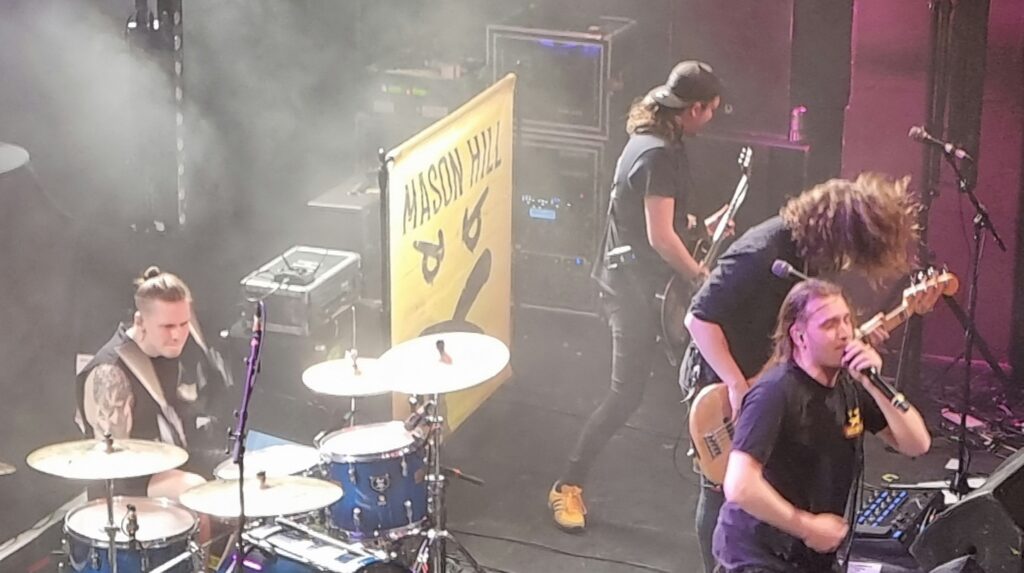 Family seems to hang over this show throughout, and when, towards the end of the set singer Rich Scott, dons his acoustic it is again.
"This" he says, "is nanny Hilda," holding his phone to the crowd to show a picture. "We gave her a send off this past Thursday", and I'm dedicating this song to her now."
With that, he sings a beautiful "Wait For Me" – and is joined by the full band for the last chorus. That moment was lovely, but in this context, it almost sums up Stone Broken.
Stalwarts of the midlands scene for a decade, they were the hardest working band there was back then, and they deserve every bit of success they get. There's a packed room, one counted in the thousands, but from MV's vantage point on the balcony I can recognise many in the crowd who followed the four piece way before they were popular and back when they were just a fantastic local band. That all means they are amongst friends more than many groups are, and it means we are all with them as part of this.
Their biggest ever (near) hometown show (which has been rescheduled three times, the last of which because Moss was ill a fortnight back) comes just after their new album "Revelation" came out, and its title track is the starting gun, if you will, for this.
With three albums in the bag these days they have a back catalogue that stands up with any. There are many highlights, not least "Stay All Night", but this new album (their first ever rock chart number 1) has plenty of its own, "Black Sunrise" is superb, for example, but they pace this extremely well.
"Let Me See It All" gets bonus points for having snippets of Warrant's "Cherry Pie" at the beginning, "Better" gets bonus points for being brilliant, and when they play "The Devil You Know" Moss reckons it to be "my favourite song on the album and an "absolute banger" – to be fair, he's not wrong.
Which brings us back to where we started and the acoustic guitar, but what happens after is much fun. A version of "Feel Like Makin' Love" was added after the first soundcheck of the tour and has stayed in deservedly, before "Not Your Enemy". Most bands would do this as an encore. Not here. This is a brilliant rock band, but not rock stars. Instead, Stone Broken are just the band that wrote great songs and worked harder than any other band to get what they got. They deserve nights like this and they'll get many, many more of them.