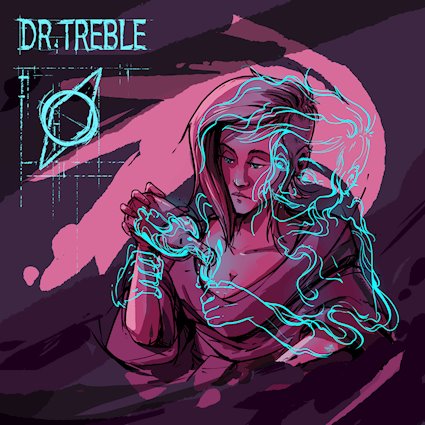 Low Treble are a Greek rock act based in the port city of Thessaloniki and comprise of Adis (vocals), Azas (guitar), Laskos (bass) and Pol (drums). Their debut EP "Dr. Treble" is released this month and is about cutting loose and freeing your inner mischievous demons.
It`s part of a two-EP project which revolves around two peculiar characters and the interactions between them. This first EP is dominated by the character Dr. Treble and her menacing madness. `Low Treble` is an audio-visual project that tells surreal stories through music, animation & comics.
The band open with `The Old New` and it`s a real quirky slice of funk rock with vocals that have a sort of quite breathy edgy feel about them. There were some delightfully ethereal guitar chords shared and pleasant vocal harmonies. A catchy number that at times remined me of Extreme`s nineteen nineties hit `Get The Funk Out`. There`s more of a straightforward rock outing with `Black Widow` which retains the tense vocals of the previous track but has some thumping drums and grinding guitar riffs.
The oddly named `Dandalos` is a sort of blistering funky rock journey where all the guys in the band seem to have an opportunity to showcase their musical abilities with vocals that are shared in a rapid fire mode not rapped but not far off. This four track extended play closes with `Leave Me Alone` and it's a laid back mid paced composition full of emotion and enjoys a wah wah type guitar solo towards the latter part of the song.
Low Treble combine elements of alternative rock with funk and to me have found a real niche of their own. They offer songs that in the main, you`ll find that you can`t sit still to and i`m sure would go down a storm at a festival. `Dr. Treble` is an enjoyable and interesting flavour of what`s to come.
Rating 8.5/10