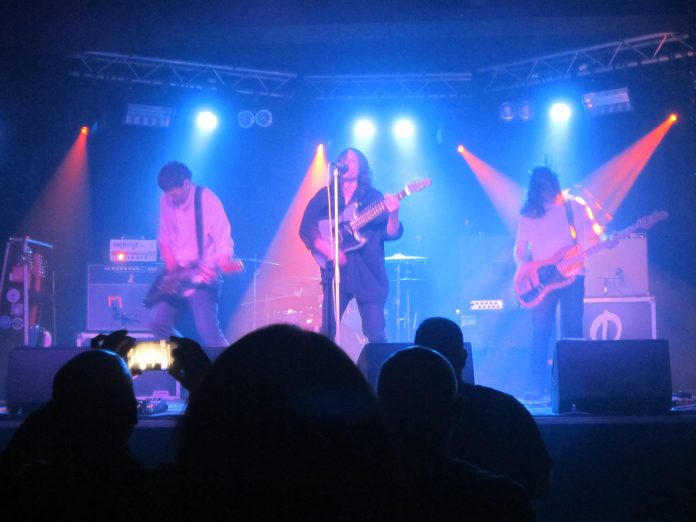 I received a text from a good friend on Saturday morning "I have a spare ticket for a socially distanced gig with October Drift next Tuesday at The Castle and Falcon, you fancy it?" I have to say I thought it was a wind up as the last show I'd attended was Stiff Little Fingers at the Academy in Birmingham on Saturday 14th March 2020.
I was also a little unsure as I was due to have my second coronavirus vaccination jab that day and last time I'd ended up with Man Flu for twenty four hours. A quick trawl on the net and there on the Castle`s website and also the band`s was confirmation that the gig was on. How the hell had I missed that.
After preliminary checks and instructions on staying safe, I was seated and it wasn`t long before Wolverhampton`s finest Alex Ohm and his bandmates Stephen Ashford and Hannah Maiden appeared on stage. I`d heard of Alex but had never managed to catch him live although he does play regularly. Alex then shared an enjoyable thirty five minute set which included `Every Ocean Fractures (Little Wonder) ` and all the tracks from his recently released "The Lost Persons Meeting Point" EP with `Time Waits (For No One) `, `Hours`, `Breaking Up Sometimes` and closing out with `Going Nowhere Fast. ` I felt that this local singer songwriter reminded me of David Grey, which in my mind is no bad thing. Alex has a number of gigs coming up locally so it`s worth a glance on his social media page.
October Drift arrive on stage with little fuss and the first thing that crossed my mind was that this wasn`t gonna be a stripped back acoustic show but a full blown electric set. It`s straight into `Losing My Touch` from last year`s stunning debut album "Forever Whatever" which addressed themes of loneliness and fear but with an overall sense of positivity, There`s no let up before the guys smash into `Cherry Red` before sharing a new track `Lost Without You` with its wonderfully singalong chorus. The band shared most of the album alongside another couple of new tracks but i`m sure that it was during the poignant `Like Snow We Fall` from last November`s "Naked" EP that the guy in front of me hugged his girlfriend who leant her head on his shoulder that I felt a strange sense of "Should I really be here"? The ongoing coronavirus pandemic having taken 150,000 lives in the UK and here I was at a superb rock gig, loving every minute of it with another sixty like-minded souls.
I think as gigs return as they must do, we`ll all have those moments of reflection.
Sadly, time passes so quickly and before we know it the fellas are departing the stage after a blistering set leaving singer Kiran alone to share a stripped back version of `Naked` a song that I have to admit I love. That`s it my first gig in over fourteen months and what a cracker to return on, I couldn`t have wished for better. As we left the venue, the guys were there signing albums and having selfies taken with fans. A quick chat with singer Kiran and he shares that they`ll soon be heading down the M5 on the 130 mile trip back to Taunton as he has to work the next evening. This more than anything brought it home as to why we have to return to live gigs as safely and as soon as possible. No millionaire rock stars living in gated mansions but just four hard working musicians trying to earn a living in these challenging times. These fellas are trekking around the UK again in the Autumn and I suggest you get to see them while they`re still playing these intimate venues as if there is any justice in this world they`ll be gracing stadiums in the near future.